Skinny tumbler help
Frequently asked questions
Can I use your tumbler wraps for Sublimation?
---
Yes, our designs are specifically made for sublimation, but can also be used for Epoxy and Crystalac tumblers, using waterslide decals or tattoos. Here is a quick video of my process of doing full tumbler wraps. I have other videos on choosing size, taping and printing.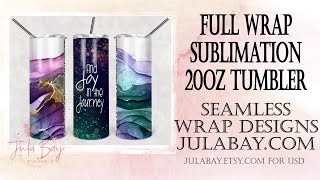 ---
Can I use your tumbler wraps for Epoxy or Crystalac Tumblers?
---
Yes you can, you can print my designs on waterslide paper as well as tattoo paper! Keep in mind that 30oz tumblers require a large format paper, as they are bigger than 8.5x11", so you would need to source appropriate sized printer and specialty papers. Here are 2 videos where I did my first 2 full waterslide wraps with Crystalac tumblers! Split in 2: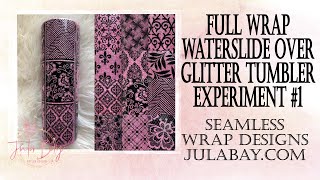 Done as full one peice: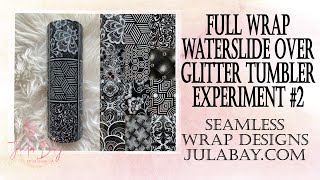 ---
Do you have tapered designs?
---
Yes, I include tapered designs for my 20oz sublimation tumblers. I include the 2 most popular tapers that I have come across. There is a Sizing Guide PDF included in every single purchase, and you will need to measure your tumblers and pick the closest tumbler taper for your tumbler. You may have to tweak the size slightly. There is a video below for both how to measure your tumbler as well as how to resize your tumbler template.
---
Can I reuse your tumbler template tapered design for a different design?
---
My designs are made specifically to be seamless and for tapered tumblers, this requires warping the design. So no you cannot just create your own design from my template and expect it to be seamless. Lines and shapes and patterns will not line up properly if you just add your own design to the shape of my template. This is the case for ANY tapered tumbler template and why I don't just sell a blank one. For basic random designs, it may work, but for patterns and designs it won't. See the video here if you are a visual learner.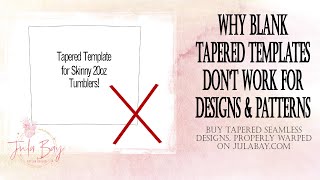 ---
How do I measure my cups?
---
You need to use a cloth measuring tape, or a peice of string and cut and measure. You will need to measure around the top, around the bottom, the length of the cup, across the top and across the bottom of the tumbler. Use these measurements to compare to the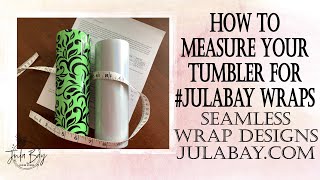 ---
What software can I use to print these designs?
---
You must use external software to print these designs, possibilities are Adobe Photoshop, Affinity Designer, Adobe Photoshop Elements, Corel or Free Silhouette Design Studio. You must know that your software can handle these types of files. Cricut users, these files are too big to use as a print and cut, you will not be able to print in Cricut. View my Tutorial on how to print my templates from Silhouette Studio
---
Do you have directions on how to pick which design?
---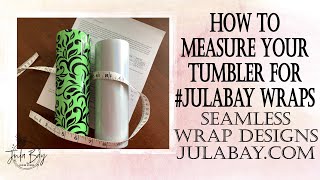 Yes, each tumbler design has a Sizing Help file included with the downloads. Some of the downloaded files may not have the most recent file, so the easiest way to find it is through here, where I will ALWAYS have the newest and most clear directions available. I accept feedback and update the directions when I have questions from people. Find the file here!
---
How do you do your tumblers?
---
Each oven is different for time and temperature. You will need to play around with your cups, oven and tumbler. Start with the time recommendations from your supplier and modify from this. For me, I've done 350 for 3.5 min and rotate 3.5min for the other side with an older oven, and my new oven I do 340 for 2.5 min and rotate 2.5 min. This is for my new tumblers which tend to stick more. You will need to trial and error to figure out your proper timing. I hope that this video helps or inspires you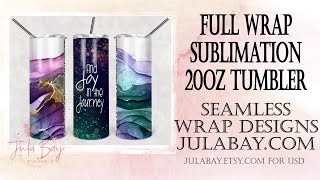 ---
---
---
---