Frequently Asked Questions
Frequently asked questions
Licensing
Can I sell transfers of your files?
---
NO we do not allow transfers to be sold of any of our designs.
---
Can I modify your files and sell them digitally? Can I share your files?
---
Nope, never. You cannot share our deisgns. You cannot modify our designs and sell them digitally. You cannot use portions of our designs in new designs to sell digitally. Basically anything digitally is a no.
---
Where is your Licensing information?
---
Latest licening is availble here!
---
---
General
What is a ZIP file?
---
A zip file is a compressed folder, you will have to download the file onto your computer and extract the files. Please google how to do this on the type of computer that you use. You cannot use a tablet or a phone to download our files.
---
Can I use a phone or tablet?
---
No, you cannot, you must use a computer to download and use your files.
---
How long will it take to get my files?
---
Your files will be available very quickly after you purchase and pay for them. You will receive an email or can download them under You->Purchases and Reviews on Etsy.
---
What Countries can buy from JulaBay.com?
---
Due to tax implications, only people in Canada or the USA can purchase from JulaBay.com. Check back later for possible expansion.
---
What currency is your website charging in?
---
I am a proud Canadian, and our pricing is all in Canadian Dollars. When you pay outside of Canada, your credit card of paypal account will convert to your own local currency. Please check online to price convert, US for example, will pay LESS in USD than our pricing shown. Your credit card or paypal will have a small conversion fee, it is best to look at your agreements with them to determine what it is.
---
Do you have any coupons?
---
You can sign up for our newsletter on the home page to receive a coupon for a discount on your first purchase. We also at times have sales throughout the year, but they do not apply to drives or special edition files.
---
What are your offifce hours?
---
This is my full time job, with that being said I do need to set business hours. Monday - Friday 9am - 3pm Mountain Time is my standard business hours. I do not work on Stat Holidays. I'm often on my phone but I may not respond to you until my next business day. Many people this day and age expect immediate answers, and I do try to answer questions as quickly as possible, but please donot be upset if you don't get an answer before the next business day. I have a life too outside of my work :) Thanks for your understanding.
---
---
Sublimation
What size should I size my 20oz Full Wrap Template?
---
Our templates come in 3 styles (some have 2 only). There is straight, tapered for cups that have a 9.25" around and 8.75" around the bottom, and a third is a 9.25" around the top and a 8.5" around the bottom (this isn't always included). You should measure your cup and use the one that is closest to your cup and then print on plain paper to test the sizing. Once you are happy with the sizing you will then use your sublimation or waterslide paper. You will need to measure around the top of your cup for straight and then measure length. It is ok to skew the file slightly (by .3" either way will be no problem at all). View more detailed tumbler help here! AS OF NOV 14, 2020 my latest measurements recommend the following, but you MUST measure your tumbler and check on plain paper first, as I am not responsible for keeping up on the size changes by these suppliers.
NOTE: You need to measure your tumblers, as I am not responsible to keep up to date on changes from these suppliers. Use the size that is closest to your tumbler and resize and test on plain paper before printing on your expensive ones. As of Nov 14, 2020 Pressing Images Files
Tapered, Colored and shimmer tumblers all measure 9.25" top x 8.75" bottom x 8" tall. They all worked with the _PI or _Taper1 files, I like the size a bit long, so they are going to print a bit under the tumbler. Resize as you like.
Straight tumblers measure 9.25" Round x 8" tall. I sized 9.3" x 8.2" as I like the design to go under the bottom of my tumbler a bit.
DAHT Tumblers
Tapered skinnies measure 9.25" top x 8.75" bottom x 8" tall. worked with the _PI or _Taper1 files.
Shimmer tumblers measure 9.25" top x 8.5" bottom x 8" tall. worked with the _Sh or _Taper2 files.
Straight tumbler measures 9.7" around and 8" tall. I would size as 9.73" x 8.2 as I like the design to go under the bottom of my tumbler a bit.
---
---
SVGs
How many Layers will my SVG have (in other words, how many colors of vinyl can I use)?
---
Our main pictures of our designs are shown with the number of colors that you can use. You can always use less colors in your actual cuts than we show, but never more. So if it is a one color design, you will only be able to use one color of vinyl. 2 colors, up to 2 colors of vinyl and so on. Why do we do this? We don't like buying SVGs and having about 40 layers show up when you import it. It is frustrating to deal with. So we provide you with as few as possible, with the design we have in mind.
---
My SVG is cut off! I don't get the full image! Help!
---
If you use BROWSERS to look at the SVG it is possible it will appear cut off as this one does. Browsers can only read SVGs that are small and fit within their viewing windows. Some SVGs are made larger and appear cut off, but you won't know for sure until you upload it into your cutting software. So UNZIP your file, an upload your SVG to cricut or silhouette business studio.
---
---
Downloading Help
How do I download my files from Etsy?
---
On Etsy.com/julabay please click on the You icon on the top right of the menu bar. Click on Purchases and Reviews. Find your sale, and click on Download Files. While you are there, leave us a glowing review if you are happy with your product! If you have a PDF file downloaded, PLEASE open it, and follow the directions or read the How do I download my files from your Google Drive? below.
---
How do I download my files from your Google Drive?
---
You will get a link in your download from Etsy, or from our shop. You need to click on that link. When that occurs you will see the name of the file opened on a brand new screen. Click on the download button which is in the top right corner of the screen. This will save the file to your computer. You will have to unzip the file to use them in some cases.
---
---
Silhoulette
Silhouette Studio is not opening the SVG?
---
There are 2 possible reasons. 1, you MUST have Silhouette Business Studio to open a SVG. If you are trying to open it with free Silhouette Studio, they do not support this. 2. You aren't opening the SVG file. If you try to opent the ZIP folder inside of Silhouette Studio, you will get this error - The Fily type you are attempting to acces is not supported. That is because Silhouette Studio does not support ZIP folders. You need to UNZIP the file, then open the SVG file that is inside of the zip folder.
---
I'm opening a PNG in Silhouette but Part of the watercolor backgorund isn't showing up!
---
Turn off the auto-trace feature in Silhouette. It cannot trace transparent portions of a PNG, so you will lose your background. As this feature changes, please use google to search how to turn off silhouette studio auto trace feature.
---
Silhouette is HANGING when I try to open your PNG file!
---
If you are printing a PNG in Silhouette Studio, turn OFF Autotrace before you open the PNG. Very large PNG files and ones that are somewhat watercolor with some trasnparency, or are very large will hang silhouette. Under Edit->Preferences->Import->PNG Autotrace needs to be UNCHECKED.
---
---
Etsy Help
What can I make/do with your Designs?
---
​YOU MUST FOLLOW OUR LICENSE ★★★ https://www.julabay.com/license Summary of the DO NOTS are: ❌DO NOT share, copy, modify or resell these files… ever ❌YOU CANNOT use our designs to make other digital designs for sale, in part or in whole. ❌YOU CANNOT SELL TRANSFERS, OR PRINT ON POD with any of our designs. You will lose your license without a refund if you are found violating our license and our lawyer will be in touch.
---
Help, I can't download my files on Etsy!
---
To download your file from your Etsy account, you need to log in to your account, click on Your Name in the top right corner, find your order, and click download files. Etsy doesn't give you the download files option from their mobile app, so you will have to do on a computer or in a browser on your tablet/phone. You can click here for a short cut! https://www.etsy.com/your/purchases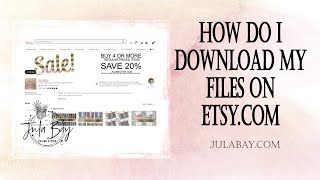 ---
Why is my file a .zip file, I bought a PNG or SVG
---
Your files come in a .zip file which is a compressed file with many files inside of it, make sure you UNZIP your files before you use it. Your files you need to use will be in the unzipped folder! You can use google search on how to unzip a file for your specific type of computer/device, it gives you step by step instructions if you don't know how to. This is the industry standard way on delivering digital files to you.
---
Help - There is an error in my file, or I got the wrong file!
---
I'm human, and at times I upload the wrong file by mistake! If you happen to get the wrong file, please message me and I will fix as soon as I can get on my computer, and as a bonus you get to keep the file I uploaded by mistake! I do check my files for quality and usability before I post them, occasionally I miss something that you might spot first, if you do please contact me, I will fix as my #1 priority.
---
I don't know how to get my file to work in the sofware I'm using!
---
If you are having software problems with the file, please check the FAQ first. Example if Silhouette Studio is hanging when you open a PNG file, it is because you have Auto Trace on and it must be turned off before you load in large printable files with jagged edges. Google also has endless answers, at all hours of the day. I do not know all software applications and I cannot provide specific software help to you, but I do record any questions that I do know that may cause you issues in my FAQ. Google is your friend! I'm a digital designer, you purchased digital designs from me, I cannot support various software platforms, you must know how to use your software. I can provide tips and tricks if I have any, but google will be your quickest resource. ◆ https://www.julabay.com/faq
---
Do you have any specials or coupons on Etsy?
---
Sign up for our newsletter to receive a one time use coupon off your entire purchase and early access to our special events. ◆ https://www.julabay.com/etsysignup
---
Do you take custom design requests, or can you make this design for me?
---
❌I do not replicate other people's designs and I don't ever make or use copyright material so please don't ask. I also am booking multiple weeks out so I don't take custom requests. Thanks for your understanding.
---
---